I was fortunate enough to get my hands on my iPhone X yesterday. Here are my first impressions, with just over 24 hours of use:
I've had two generations of Ginormous iPhones: the 6S and the 7. My first impression of the iPhone X out of the box was that it's so tiny. Not "holding an iPhone 4" minuscule, but small.
Related and not surprising: this fits much more comfortably in my front jeans pocket. I've carried my Plus-sized phones in my back pocket, bag, or hand as long as I've been using them.
Setting up a new phone from an old phone is a pretty easy experience! But I haaaattttteeee True Tone and was disgruntled that I had to get through the entire setup process before I could turn it off. It didn't help that activation was an hours-long, multi-attempt process, so I had to look at the same screens with the same gross color temperature over and over again.
The iPhone X didn't offer to transfer my Apple Watch, so I had to do it manually. Not the end of the world, but I was looking forward to the smooth transition I was promised.
The new aspect ratio isn't as jarring as I thought it would be.
One of the big reasons I wanted the iPhone X over the 8 Plus is for image stabilization on both cameras when taking photos. Unfortunately, I haven't played with the camera much yet.
I did take one selfie, in portrait mode, and Was Not Impressed with what it did to my face. My pores are large and portrait mode only served to emphasize them. But it's only a single selfie and better light plus a fine layer of spackling paste across my nose may solve this.
I'm not sure about the way the hardware buttons are mapped. Take a screen shot by holding the sleep/wake button and the volume up button. Turn the phone off by using that same combo, but holding them. But what do I know? I've missed having the sleep/wake button on top of the device since they moved it.
Because it's so tall, at least compared to what I'm used to, I don't notice the notch unless I'm looking right at it. I don't often watch videos and never watch movies or TV on my phone, so I can't speak to that experience.
The thing that distracts me most is the space below the keyboard. It must be there to help people swipe up from the bottom edge (the gesture that's taken the place of pressing the home button to get to your home screen or the app switcher), but there's just so much blank space there.
Speaking of the space along the bottom edge, it often makes me think of a whale.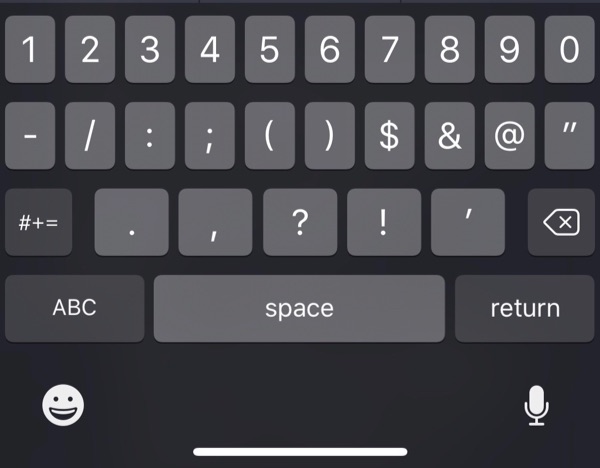 I miss being able to display my battery percentage at all times. It does display in Control Center, but it's not the same.
I somehow keep activating the accessibility option to zoom in. I have no idea how I'm doing it; the gesture is a three-finger triple-tap, and this never happened on my previous iPhone.
I haven't had the opportunity to use Apple Pay yet, but I question how easy that will be in practice. I had to double-press the sleep/wake button to complete an App Store purchase last night and it was a little fiddly.
I still haven't used Animoji. Sorry, Apple Dad Craig.
Face ID

Took me a bit of time to set up. I had to hold the phone further from my face than I expected. I thought setting up Touch ID was easier overall, but maybe I'm just used to the process now.
Is slower than the latest and greatest version of Touch ID, but feels on par with the older version.
Works well in low light situations and at some pretty odd angles.
Works sometimes if my hand is covering my mouth or Raven is pressed to my face (cats are a weird and invasive species). I live in the desert and will likely not be testing its reliability with scarves.
Is crap for unlocking the phone when it's on a counter or table, which I've learned I do more than I thought.

Gestures

There are a lot of 'em!
I'm catching on faster than I thought I would. I find myself reaching for the home button when I'm idly doing something (like checking social media), tired, or distracted. Otherwise, I'm pretty good at swiping from the bottom.
I must have pulled down for notifications on the right side of my previous iPhone screens, because I keep bringing up Control Center instead of notifications. Hopefully my brain will remap sooner rather than later.
Lastly, I asked what my Twitter followers wanted to know. You ask, I answer!
How do you reach the top? Thumb gymnastics? Two hands? Is it annoying to get to Control Center and notifications?
I don't think of my hands as being particularly small, but I've been a two-handed iPhone user since I got my iPhone 5. I just never could get to those top corners, and reachability never clicked for me. I think this is why the transition to the iPhone 6 and then the 6S Plus wasn't too difficult for me, and why the new way to get to Control Center and notifications isn't a big deal for me.
When I do need to use it one-handed, like when Raven lays on my arm, it can be a little cumbersome to get to the top. I'm working on figuring out how to inch the phone down in my hand without dropping it. It does balance nicely when I use my thumb to support the bottom and index finger along the side. This kind of worked with the iPhones Plus I owned previously, but I couldn't hold it long and it was less stable.
How does the learning curve for the iPhone X compare to the learning curve for previous iPhones?
Steeper, I think, because this breaks a lot of established iPhone conventions. I don't know that it'll be more difficult to learn if the user doesn't have a lot of experience with iPads or other iPhones, but breaking old habits is hard. As insinuated above, I also question how intuitive it is to perform tasks like restarting the device. You hold the sleep/wake button plus the volume up button to turn off the phone, but just the sleep/wake button to power it up? That seems inconsistent to me.
What about the color shift due to the OLED display?
It's quite noticeable, but is well outside my normal viewing angles.
Is it superior to the 6-8 iPhone bodies when you hold it like a lightsaber and make "whooshing" sounds as you duel someone?
Yes, because it's taller than the iPhone 6, 7, and 8 and therefore more appropriate for use as lightsaber. The wider iPhone 6 Plus, 7 Plus, and 8 Plus make it harder to hold and therefore present a major tactical disadvantage.